Dan leaned against the gym's treadmill, speaking to a fit-looking British guy in his mid 40s. They were having one of the most electric conversations I had ever heard. It intrigued me enough to introduce myself. I learned that a few years previous, Dan had been working for a UK-based television company. A Russian headhunter (a corporate type, not an icepick wielder) offered to triple his income to work for a similar company in Russia.
I wondered how the Russian network could afford to pay so much. But then I recalled seeing so many examples of Russia's economic growth. My wife and I were recently in Vietnam. Russians were everywhere: vacationing, buying real estate and opening businesses. We've traveled a lot over the past 20 years, visiting dozens of countries. But until recently, we hadn't seen many Russians. It seemed that an increasing number of Russians were making bucket loads of money.
But their stocks were priced lower than fistfuls of ice. The public, it seemed had little faith in Russian stocks. When most people think a country's future is bleak, they sell that country's stocks. This drives prices down. And when prices fall hard, people do more selling. Few people like to buy, for example, after a shockingly dismal run. In 2014, we saw one of those downhill runs. Russian stocks slid 45.9 percent.
Consequently, in 2015 Russian stocks were like disease-ridden boats that nobody wanted to board. Russian companies, however, were still posting decent profits. The country's CAPE ratio (cyclically-adjusted price-to-earnings ratio) was one of the lowest in the world.
When CAPE ratios are far lower than average, it usually bodes well for strong, future ten-year returns. That doesn't mean markets with low CAPE ratios will rise the following year, or even a few years after that. But based on economist Robert Shiller's research, such stocks should post a solid overall gain over the following ten years.
That's why I wrote Russia's Stock Market Is A Swing For The Fences in 2015. I wasn't pushing Russian shares. But if anyone wanted to gamble on a single emerging market over the next ten years, I thought they could do a lot worse than buying a Russian stock index. I referenced the VanEck Vectors Russia ETF (RSX).
Five years have passed since then, and Russian stocks have done just fine. According to the Novel Investor , Russia's stock market was the world's best performer in 2019. It gained 52.2 percent. If, in 2015, an investor added a lump sum to the Russian ETF, or if they added monthly sums, they would have trounced an equivalent investment in the S&P 500 index.
The VanEck Vectors Russia ETF (RSX) gained a compound annual return of 15.81 percent per year from 2015 to 2020. That compares to 11.08 percent per year for Vanguard's U.S. Stock Market Index (VTSMX).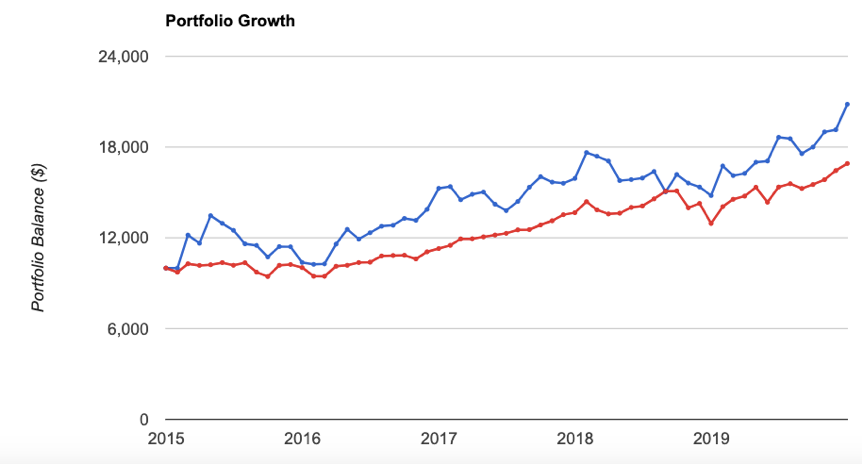 That's saying a lot. After all, U.S. stocks were among the world's best performers over the past five years. But American stocks have also risen far faster than business earnings. Instead of sporting a lower than average CAPE ratio, U.S. stocks are in the nosebleed zone. According to Robert Shiller, that shouldn't bode well for the next ten years.
In contrast, international stocks, and especially emerging markets, are far cheaper than U.S. shares. That's why, over the next ten years, they'll likely beat U.S. stocks.
I'm not saying you should dump U.S. shares. Nor am I saying you should load up on Russian stocks. I am saying, however, that investors shouldn't shun emerging markets, even though many haven't kept pace with U.S. stocks over the past ten years.
Emerging markets will, once again, enjoy their time in the sun. That means investors should make sure they have emerging market exposure in a portfolio of low-cost index funds. You never know when the emerging market index will follow Russia's tracks.
Andrew Hallam is a Digital Nomad. He's the author of the bestseller Millionaire Teacher and Millionaire Expat: How To Build Wealth Living Overseas