Plenty of people asked, "How long will it take you to drive to Argentina?" We didn't know. Nor did we care. We wanted to soak in every sight and every culture. In total, my wife and I spent 17 months exploring the western United States, Mexico and Central America in our camper van. But we faced a dilemma after a few weeks in El Salvador. It was an amazing country. But to move further south, we needed to get through Nicaragua.
That was back in 2018, when Corona was just a beer. But we worried about civil unrest in Nicaragua, which had recently broken out. We waited a few months for things to cool, watching online as several braver souls pushed through Nicaragua in their vans and RVs. In the end, we retreated and drove north towards home.
Our feet, however, still itched. In late 2019, we learned that Nicaragua was safe once again, so we prepared to leave for Argentina in our van. But two weeks before our departure date, my wife changed her mind. She said, "Before driving south, let's fly to Costa Rica and ride around the country on our tandem." Reluctantly, I agreed. And that was our turning point. We spent five amazing weeks cycling almost 2000 miles. We left Costa Rica in early March and flew back to Canada. A few days later, we learned that COVID-19 had hit the world like a tempest.
I continued to wonder: "What would have happened if we took our van instead?" We had already seen most of Mexico and Central America, so we would have bee-lined further south. By March, we might have been in Colombia or Brazil. With the pandemic running wild, what would have happened then? We could have flown home, of course. But we wouldn't leave our van. As global unemployment soared, could we really store it in South America and expect it to be safe?
I'm guessing we would have hunkered down instead. But with fears of the pandemic, I wonder how we would have been treated in a different country, thousands of miles from home. So I asked a few other people to give me an idea.
In August 2019, Francine and David Smith* left England in a ten- ton, expedition truck. Check out their vehicle's interior photos here.
The couple, 56 and 58 years old respectively, planned a four-year trip around the world. After driving through Spain, Portugal and Morocco, they pushed further south into Africa. "We planned to explore Africa and then ship our truck to the Americas," says David.
Three months after they arrived in Zambia, COVID-19 changed everything. "We entered Zambia in December 2019," says David. "We planned to stay for 90 days, until our visa expired. But the borders closed by the time we were set to leave. There were roadblocks. Temperatures were taken and 'track and trace' information was recorded."
Fortunately, David and Francine can access food at the local markets. "We've been treated really well by locals and officials," he says. "A local farmer has 'adopted us' and sponsored our Zambian Visitor permits, allowing us to stay up to nine additional months. We have been camping on his farm, just outside Lusaka. Zambia has not stopped internal travel, so we have continued to travel around Zambia and visit its amazing National Parks (empty of tourists)."
Instead of flying home, they have chosen to wait, hoping to resume their adventure when the virus settles down. "Leaving the truck might be problematic," says David. "Besides, we're happy to stay in the sunshine."
Eleni and Sergio Medeiros face similar challenges in Mexico. The adventurous couple, aged 48 and 47 years old respectively, left their native Brazil in February 2015. Travelling in their Land Rover Defender 110, they aimed to see South America, Central America, North America, Asia, Africa and parts of Europe. When COVID-19's lockdown occurred, they were in the city of La Paz, on Mexico's Baja peninsula.
Sergio says locals in La Paz weren't initially convinced about the dangers of COVID-19. "We felt everyone was skeptical," he says. "But then the real lockdown started and they closed everything, specifically all the beaches." The southern Baja peninsula relies heavily on tourism. Sergio and Eleni found it tough to watch people struggle. "It's very sad," says Sergio, "seeing almost every outdoor activity forbidden. It's hurting the economy. Hotels, street food vendors, restaurants and tour companies have all been hit hard." Despite their difficulties, however, the locals are treating Eleni and Sergio well. "They've been really friendly and polite," Sergio says.
When I asked the couple why they haven't flown home, they said they couldn't abandon their home on wheels. Besides, life in Brazil would be just as challenging (if not more so) than remaining in La Paz. Eleni and Sergio earn money online, so they've been able to rent a small apartment, giving them a bit more elbow room and contributing money to the local economy.
"Definitely, it's not the end of the world," says Sergio. "And with time, everything will get back to normal, maybe a little bit different, but it will." If all goes well, Eleni and Sergio will ship their Land Rover to Europe, where they hope to continue exploring in 2021.
Ute and Ralph Rößler hope to continue their journey too. In June 2018, the couple left Germany for the first leg of an epic trip. They traveled through Canada, the U.S. and Central America. Next, they planned to spend 3 years driving through South America in their Unimog 1550.
But for now, the 62-year old Germans are stuck near San Martin de los Andes, in Argentina's northwest Patagonia region. When the lockdown occurred, they hunkered down beside a lake with ten other stranded travelers. But local authorities intervened and improved their circumstances.
"The municipality moved all RVs to a campground 7 kilometers outside the city center," says Ute. "Here, we have all we need: hot showers, electricity, potable water, access to shops, supermarkets…and most importantly, nice company."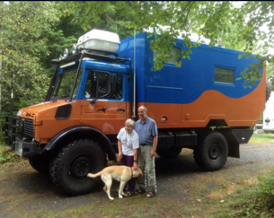 At first, some of the locals feared them. On one occasion, Ute visited a pharmacy. None of the employees wore masks. But as soon as they heard Ute's Spanish, they knew she wasn't from Argentina. Before serving her, they put on masks.
But as Ute explains, the locals have been great. "For more than 2 months, the municipality made payments to the campground hosts for all travelers," she says. After that, they asked campers like Ute and Ralph to pay the utility bills. "People from the neighborhood have stopped by and asked if we need anything. A local bakery provided us with bread a couple of times. When it got colder [it's currently winter in Argentina] some locals delivered a bag of winter clothes."
Ute and Ralph are considering flying home to Germany. But like so many others, they aren't keen to leave their home on wheels. Besides, if they do, they might face a stiff fee for leaving their vehicle in Argentina.
COVID-19 also put a stick in the spokes for Me-Summer and her husband, Feng. The couple left Mainland China in October 2019. They hoped to spend one year driving through Latin America. They bought an American plated, 1992 Ford F250 pickup with a Lance camper for the trip.
When the lockdown hit, they were in Chiapas. It's a lush part of Mexico, with mountains, lakes, streams, dense forests and gorgeous waterfalls. "We have been in quarantine more than 4 months," says Me-Summer. "We found a good RV park to live and we have neighbors. But now, we really feel tired and we cannot see the hope to travel again. We are questioning ourselves: do we need to give up the trip? Are we wasting time here?"
Me-Summer and Feng say there aren't any direct flights from Mexico to China, and flights back would be expensive, especially considering China's restriction on international flights. For now, they face a quandary.
Fortunately for Marcus and Julie Tuck, they face less uncertainty. The British couple, in their early 50s, began their round-the-world travels in January 2014. They've been living in their IVECO Daily 4x4 for 6.5 years, visiting 48 countries and four continents.
When the lockdown hit, Marcus and Julie were in the Yukon Territory of northern Canada. "We wanted to drive the ice roads to Tuktoyaktuk on the Arctic Ocean," recalls Marcus. "But lock-down stopped us on the way. It was chilly back in March... minus 31 degrees Celsius, with deep snow and ice." They have been sleeping in their truck every night.
Unsurprisingly, people in the Yukon Territory grew suspicious of outsiders. But CBC radio and television interviewed the intrepid couple, bringing them fast, local fame. "People came around to check on us, bringing gifts and food," says Marcus. "That included a large chunk of moose meat! A government minister even brought us a home-baked cake! We were really grateful for their kindness."
Unlike many other "Overlander" travelers, Marcus and Julie's vehicle would be safe if they left it. But their concept of "home" has shifted over the past 6.5 years. "Our vehicle is our home," says Marcus. He also adds that flying back to the UK in an airplane wouldn't be safe during the pandemic anyway.
As each of these travelers struggles with what to do next, a consistent theme emerges. In every case, strangers in foreign lands have lent helpful hands. The travelers, in turn, have reciprocated that kindness. Above anything else, including our citizenships and political affiliations, humanity unites us all. That doesn't mean the world is perfect…far from it. But as people, we have far more in common than we have differences. That's why we should be tolerant, kind cooperative, and not be afraid to dream of better days ahead.
* Note: I changed Francine and David Smith's names to respect their privacy