I walked through a tunnel of massive stones, which soon gave way to a tropical jungle trail. I couldn't see far ahead; the dense foliage limited visibility to about 15 or 20 feet. Then it opened up. It was like entering a scene from Tomb Raider or Indiana Jones.
I climbed the 2000 year-old pyramid that emerged in the clearing, breathing heavily as I neared its sacred summit. I looked around as I reached the structure's crest. Breaking through the high tropical trees, I saw tips of other pyramids obscured by the jungle.
I heard the wind. I heard the haunting screams of howler monkeys. I heard the jungle cicadas buzz. It was a perfect place to sit and wonder. If I went back in time, what else would I see? One thing, above all, helped me to imagine it: nobody else was there. I didn't have to battle other camera-toting tourists. I didn't have to weave through crowds of merchandise sellers. I was alone with the jungle's sounds.
In contrast, thousands of people flock to the Mayan ruins at Tulum and Chichén Itzá. Others storm the beaches at Cancun. Thirty years ago, these were secret gems. But they're stuffed with tourists now. And prices are often high. If you're looking for a low-cost warm winter escape, let me suggest something different.
My wife and I recently spent 10 months driving around Mexico in a camper van. The Yucatán Peninsula is the country's most expensive region. But it's still cheap, by U.S. standards, once you're away from the tourist towns.
I recommend flying to Cancun, renting a car and then driving around the Yucatán Peninsula for a week. The roads are smooth, the people are friendly, and you'll find several gems. Mayan ruins, for example, are about as common as Starbucks in Seattle.
Don't get me wrong. The famous ruins at Tulum are spectacular. And Chichén Itzá is one of the Seven Wonders of the World. But they're packed with tourists like flies around a single jar of jam. And their prices aren't low. Scooter rentals in Tulum, for example, cost about $30 a day. By Mexico's standards, that's stratospheric.
We paid $15 USD each to walk the grounds at Chichén Itzá. In contrast, the quiet ruins at Becan cost just three dollars.
The Yucatán is also known for its cenotes. These are fresh water sinkholes. Some are above ground, while others are subterranean. These sinkholes attract brave scuba divers who explore their hidden channels. Near Cancun and Tulum, tourists pay high prices to swim in the nearby holes. Some cost as much as $20. But drive a few miles from the hot tourist zones. You'll find much cheaper holes with far fewer tourists.
In fact, the Yucatán Peninsula is a better bargain now than it has been in years. Over the past five years, the U.S. dollar has gained 38 percent on the Mexican currency. Over the past 10 years, it has more than doubled against the peso. This has made towns like Bacalar more affordable than ever.
Bacalar is one of six Pueblo Mágico [magical town] sites on the Yucatán Peninsula. The other Pueblo Mágicos include Tulum, Isla Mujeres, Valladolid, Izamal, Palizada. They are popular among European, South American and Mexican tourists. In 2001, the Mexican government began pouring money into its Pueblo Mágico program to promote tourism. The towns were selected based on their natural beauty, cultural richness, historical relevance, cuisine, and great hospitality.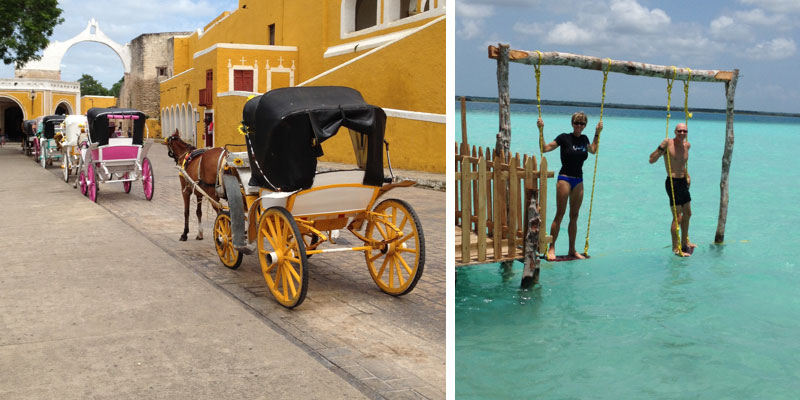 Bacalar is known as the lake of seven colors. Its freshwater lagoon is great for swimming and kayaking. But like most of the Yucatán's sites, few Americans know it. That's a pity. The Yucatán Peninsula is the safest region in Mexico. And if you drive around the peninsula, you might build far more memories than you would if you stayed at a fancy beach resort.
Andrew Hallam is a Digital Nomad. He's the author of the bestseller, Millionaire Teacherand Millionaire Expat: How To Build Wealth Living Overseas